Picture House Membership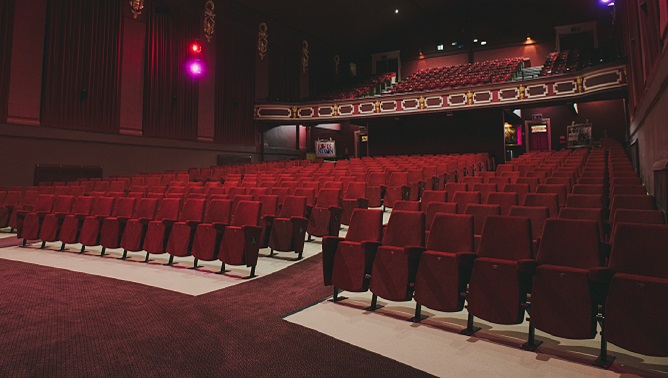 October 2020 update for current Members: All Members have now been emailed and we have confirmed everyone's Membership has been extended by 226 days – the period of our closure between March and October 2020. Our email to Members includes exclusive Members discount codes that can be used when booking online. Please check your spam if you've not received an email from us. Thanks for your support.
We're pleased to launch our new membership scheme for Hebden Bridge Picture House lovers! If you like what we do, and you visit us around once a month or more often, this sweet membership package is for you. Membership lasts 1, 2 or 3 years, and costs from just £3.66 per month!
You will enjoy:
• 2 free film tickets for each 12 months of membership
• 10% discount on all food and drink items at the kiosk & bar
• £1 off film tickets (saving up to 18%)
• £2 off live arts / event cinema tickets (saving up to 15%)
• Exclusive offers for Members – see below for our current Member offers
• Reductions on annual cost when you buy a two- or three- year membership
• Current Picture This members get £10 off their Membership cost. We'll add any remaining time in your Picture This membership on to the new Membership period so you can join us and get all the extra benefits of Membership sooner rather than later!
• A warm fuzzy feeling for supporting your local indie cinema.
Current exclusive Member offers:
(1) As a supporter of Hebden Bridge Picture House, you can now enjoy three months of a hand-picked selection of films from MUBI – entirely free.
You can stream MUBI on your PC, Mac, iPhone, iPad, Apple TV, Apple TV App, Android, Playstation, Roku, and Samsung Smart TV.
How? Simply follow the link below and add your details (your card will NOT be charged) and you will receive 90 days for FREE. You can cancel any time.
Click here for FREE hand-picked cinema for 90 days: MUBI Hebden Bridge Picture House page
(2) All Members go into an annual prize draw to receive a free film pass for a year – drawn on 31 March each year using a random number generator to select a Membership number.
Membership costs:
£50 for 12 months (£4.16 per month)
£94 for 24 months (£47 per year / £3.91 per month)
£132 for 36 months (£44 per year / £3.66 per month)
£10 discount for Picture This members joining the new Membership scheme (and you can transfer over remaining Picture This time) – limited time only!
How Membership works:
• Download and complete a Membership form (see below) – make sure your email address is easy to read, as this is how we'll keep in touch with you.
• Pay for membership! You can pay at the box office counter when you drop off your membership form (cash or debit card) or if that's not convenient, you can call the office (01422 842807) on a Monday to Thursday morning and pay by debit card over the phone (and then email or post us your membership form). Until you're able to buy your membership online – we're getting there with the website upgrade and will offer internet payments soon – you can also post the form back to us with a cheque.
• We'll email you to let you know when your membership pack is ready to collect from the box office counter – you get 12, 24 or 36 months membership from the date we email you and can use your Membership card and free tickets from the moment you collect the pack from the Box Office on your next visit to the cinema.
• Please remember to show your Membership card at the Box Office when asking for your tickets, and again at the kiosk as you order your food and drink to claim your money off.
• We'll email you with your renewal reminder around 3-4 weeks before your membership expiry date.
• We'll send you the main weekly newsletter by email, which will contain news of Members special offers such as the 'Film Lovers' bring-a-friend-for-free screening each month.
Download our Membership form here: Membership form.pdf
Please note the old Picture This membership scheme is now closed to new members, and we no longer post the monthly programme out. Note we do still distribute the monthly programme to 35 local venues each month for you to collect, and it is always available from outside the cinema and downloadable from the homepage at www.hbph.co.uk. It was time to retire the Picture This scheme for many reasons, and we hope you like our new Membership scheme with its improved selection of member benefits.
Picture This is still operational for current members who will be able to get £1 off film tickets (except family matinees) and £2 off live arts tickets, and use any un-used free tickets until the expiry date on their Picture This card. Picture This members who have lost their Picture This cards can apply for replacement cards here: Lost Picture This card form.pdf Picture This members can move their remaining Picture This membership time over the new Membership scheme AND get £10 off Membership if they wish – see above.
If you would like to receive our monthly programme and our weekly listings by email, please send your full name and email address to marketing@hebdenbridgepicturehouse.co.uk