Picture House Merchandise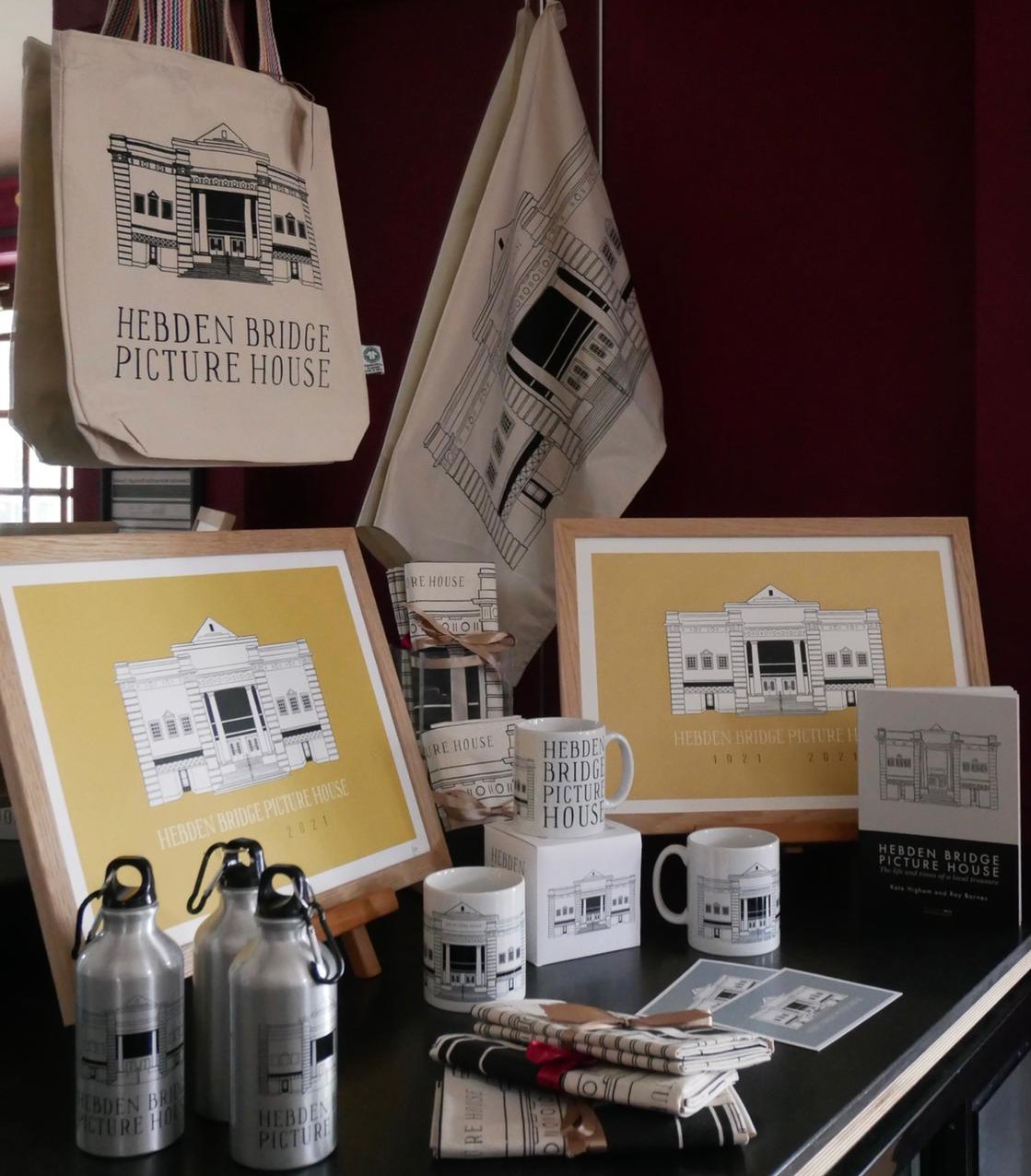 Why not treat yourself to a souvenir in support of your local indie cinema?
Choose from our organic cotton screen printed tea towel, organic cotton heavy weight tote bag, centenary black T-Shirt, water bottle, mug in gift box, postcard or history book. Priced from 50 pence to £10, all are available now to purchase from the kiosk, with the history book also being available by post from the Friends of the Picture House – see below.
Also, for our centenary year we are delighted to have two gorgeous limited edition A3 screen prints for sale in aid of our centenary screening and events programme. Designed by Ross Mackintosh and printed in Hebden Bridge at the Egg Factory, the mustard background print on cartridge paper is in a signed and numbered edition of 100 and priced at £30, and the gold background image on fabriano paper has just 50 signed and numbered prints and is priced at £45. Both prints are supplied flat in a cardboard envelope.
You can view our Merchandise Menu ahead of your visit and plan your purchases!
To order Hebden Bridge Picture House, The Life & Times of a Local Treasure by post please see below.
£10.00 plus £3.00 postage and packing.
Hebden Bridge Picture House, The Life & Times of a Local Treasure
A Friends of the Picture House Publication.
This book tells the story of the cinema in Hebden Bridge. It recounts the days when the small wooden Royal Electric Theatre and Hippodrome showed silent moving pictures, accompanied by a pianist. It tells of the planning, building and opening of the Picture House. We learn of the days when the cinema flourished, and also of the many times when it struggled and was almost lost.
Here we also find this fascinating story placed in its context of national cinema and local history.
The book is rich in facts, and photographs, but, most importantly, it tells of passionate community spirit, and the many local people who have been associated with the cinema over the years, and who have stepped up to fight for the survival of this local treasure time and time again.
This is the very first time that all of this information has been gathered together in one place.
All proceeds from the sale of this book will go directly to the Friends of the Picture House to help support and improve the cinema.