Birthdays at the Movies!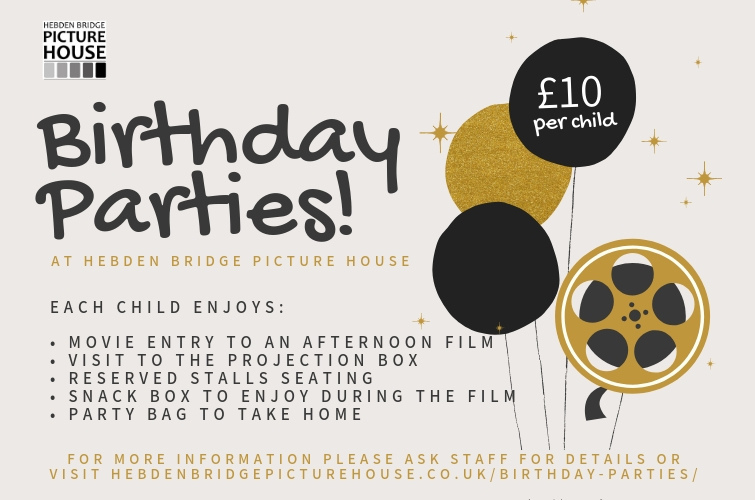 WE REGRET THAT DUE TO THE COVID-19 PANDEMIC AND THE DISTANCED SMALL SEATING GROUPS IN PLACE AT THE CINEMA, OUR PARTY OFFER IS CURRENTLY NOT AVAILABLE. WE HOPE TO BE ABLE TO OFFER BIRTHDAY PARTIES AT THE CINEMA AGAIN SOON
Take the stress out of birthday parties! Let the Picture House host your kid's birthday party at one of our family matinees.
Each child enjoys:
• Movie entry to an afternoon film
• Visit to the projection box
• Reserved stalls seating
• Snack box to enjoy during the film
• Party bag to take home
Small print / the deal in detail:
Minimum of 6 children and maximum of 12 children per booking.
• £10 per child (all inclusive price).
• One free adult ticket & free adult hot drink per 8 children. At least one adult must be present.
• Additional adults £6.50 each (standard off-peak adult entry price) – payable on the day.
• Child places must be booked and the deposit paid for at least 7 days prior to the party.
• Visit to the projection box before / after the film – parental supervision essential in projection box.
• Snack box includes Cawston Press fruit juice / bottle of still or sparkling water + bag of popcorn + 2 small sweets. If any child is VEGAN, let us know and we will ensure only vegan sweets are included.
• Party bag includes minimum of 5 party favours, gender neutral, suitable for ages 4-11. These will be handed out after the film and projection box visit, as you leave.
• Usual matinee timings would involve party arrival time of 1.30pm for a 2.00pm film start (timings will be confirmed for your chosen date / film at the time of booking).
• A deposit equal to £5.00 per child is payable at the time of booking (by cash or card – can be paid by phone).
To enquire about upcoming family films please email manager@hebdenbridgepicturehouse.co.uk. Bookings are confirmed with the completion of a booking form (download below) and the payment of a deposit equal to £5.50 per child (balance is payable on the day).
If you know the date you want to hold your party on (and are happy with the film we're screening that date), please get in touch, returning the booking form, to speed things up!
Download the Birthday party booking form (PDF format) for completion and email back to manager@hebdenbridgepicturehouse.co.uk